About
We came together in 2002 in East Vancouver, Coast Salish Territories. We are passionate about DIY culture, community building and social change.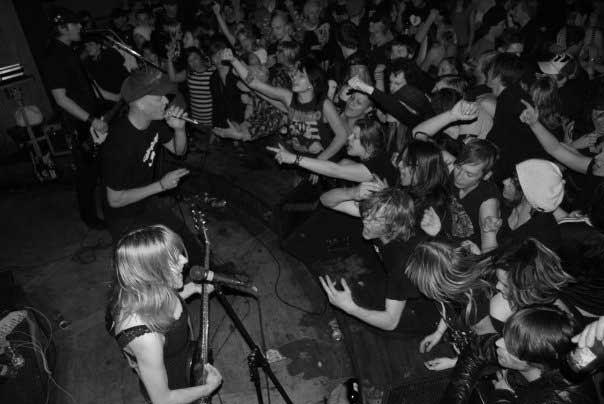 History
We released our first album, Expression in Laymen's Terms in 2003. Wretchederin recorded it at Fiasco Bros. studio and Doug Naugler mixed it. We hand cut and glued cases for the first 500 cds. Chris Rebel did the artwork and changed it over subsequent pressings. Later on our friends from Seattle released it on vinyl on Out of Tune Records.
In 2005 we released Days of Rage and in 2007 we put out the EP Four Songs about Freedom on CD. We started calling our label Clandestine Collective. Both of those works were later released as digital albums through G7 Welcoming Committee, Propaghandi's label based out of Winnipeg. They were produced by Doug Naugler and the artwork is by Chris Rebel. Four Songs features Nate Cunnings on keyboards on the track "They Know".
In 2011 we released It's a Beautiful Future through Rebel Time Records out of Hamilton. It is also available in Europe through Fire and Flames. We brought in a bunch of guest musicians for this one; Kytami played violin on the track "Uncontrollable", Troi Poison sung on  "Tragedy" and Nate Cunnings played keys on "It Can't Be Just Me" and "The World Turned Upside Down". The artwork is by Oliver, Cablz, and Paul Tryl.
In 2014 we released Last Run. It was recorded by Jesse Gander at Raincity Recorders and was released collaboratively by Rebel Time Records (Hamilton, ON), Not Your Buddy Records (Vancouver, BC) and Harvest King Records (Regina, SK). It was our first album to feature Elliot's contributions on bass and piano and Travis on drums. Our friends Jeff Andrews and Lexi Marie also sing on the album, and Stepha shares a lead vocal on "All This Costs." Oliver and Paul Tryl did the artwork again.
Throughout the years we toured Canada countless times, the States a bunch and Europe twice. We played over 500 shows in the 12 years we were a band. Our final show was on New Years Eve, December 31, 2014 at the Wise Hall in Vancouver.
Tragically, on March 7, 2015, our singer Todd Serious died in a rock climbing accident in Black Velvet Canyon near Las Vegas. His death was unexpected and shook us and our whole community. Todd had a profound and lasting impact on all of our lives. We will never forget him, and his spirit lives on in our music.
Lineup
Original Lineup
Toddserious on vox
Wretchederin on guitar
Chris Rebel on bass
Stepha on drums
Chris Rebel left us in June 2009. In the interim Troi Poison and Evan Catalano helped us out on bass. Kris, Travis and Jon have filled in for Stepha on a couple of tours.
Final Lineup
Toddserious on vox
Wretchederin on guitar
Elliot on bass
Travis on drums